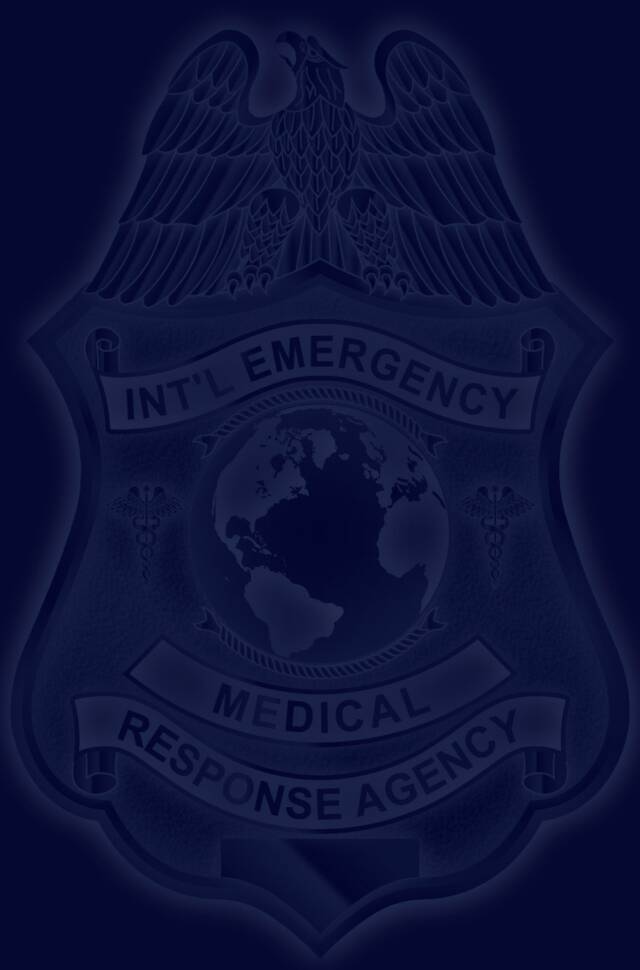 Mission:


The International Emergency Medical Response Agency is a private, New York based corporation, operating as a non-governmental membership organization. I.E.M.R.A. is NOT affiliated with, endorsed or sanctioned by ANY government or law enforcement agency (federal, state or local).

The goal of the International Emergency Medical Response Agency is to organize, educate and connect healthcare professionals, preparing them as assistants to first responders, their patients, their communities and their loved ones during critical incident readiness, response, recovery & resilience. I.E.M.R.A. member healthcare professionals assist first responders by providing healthcare to private patients, disaster victims, other responders and the community. I.E.M.R.A. extends information to member-families, enabling families to be prepared for emergencies and helping member healthcare professionals serve as disaster victim responders, offering their expertise where it is needed during disasters, with peace of mind that their families are prepared to be safe in their absence. I.E.M.R.A. also recognizes the need for public safety, continuity of business and protecting human capital so threat analyses, safety compliance and tailored training is available for businesses and communities.


The I.E.M.R.A. provides members with education and training focused on mastering core competencies in essential disaster skills.
    We have developed a secure method of vetting members as medical professionals and responders in good standing. We offer a thorough background check as a means of vetting members - applicants may only become members once they have been confirmed as licensed healthcare professionals in good standing, without a history of litigation, professional misconduct or criminal activity.

    IEMRA's vetting process, along with the secure, standardized credentials offered to members, creates an immediately identifiable, accountable, responsible, elite force of medical responders to critical incidents.  Our members are easily recognized and identified by all responding agencies and authorities on scene.

    The International Emergency Medical Response Agency offers its network of member professionals to assist any community or nation facing a natural or manmade disaster and to provide quality healthcare to members of law enforcement, the fire-fighter community and military service members.

    We encourage members to engage in a professional exchange of knowledge, best practices and other vital information, promoting safety and advanced healthcare globally. I.E.M.R.A. provides an arena in which healthcare professionals can discuss professional concerns and educate each other. Members receive agency credentials as well as educational opportunities in disaster resilience, readiness, response and recovery, which enables and prepares them to provide services to first responders and affected communities during critical incidents.


Interational Emergency Medical Response Agency is dedicated to making our world a safer place before, during and after critical incidents.




HEALTHCARE PROFESSIONALS PREPARED TO ASSIST FIRST RESPONDERS

& AID THE PUBLIC DURING CRITICAL INDICENTS

International Emergency Medical Response Agency